Colins Quick & Easy StirFry Meal...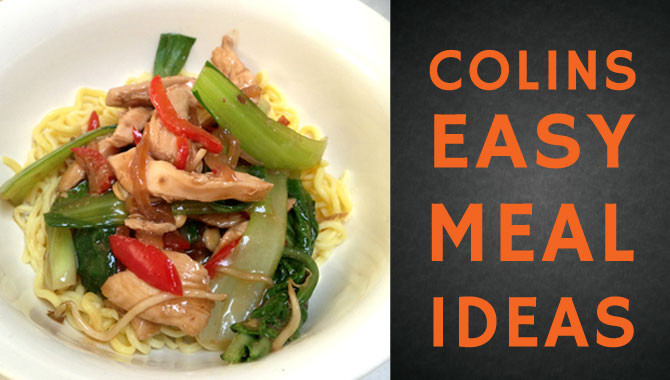 Here is a quick and easy (and HEALTHY) stir-fry meal that I whipped up for dinner last night! 
Our lean Chicken Breast Strips are on special this week [13.2.2014 - 19.2.2014]  You can buy them online here or pop instore and one of our friendly staff will serve you!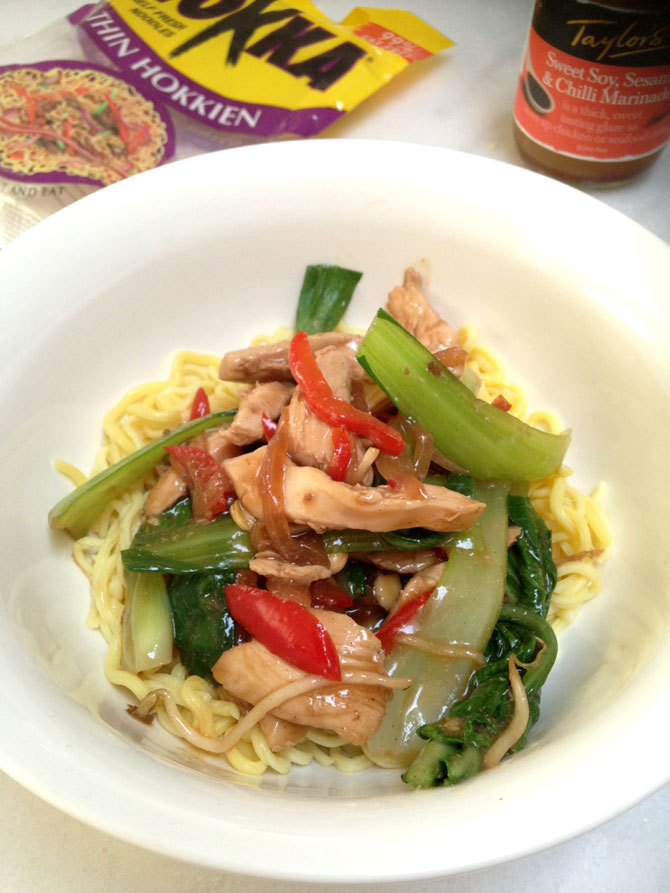 Sweet soy and sesame chicken stir-fry
with your favourite veggies and Singapore noodles. [serves 6]
Ingredients
1kg Chicken breast strips
1 bottle of Taylor's sweet soy and sesame (available in store)
1 bunch of Bok Choy (cut in half then cut the stalk part down the middle)
1 clove of garlic crushed
1 red capsicum cut into fine strips 3cm long
1 red onion cut into thin strips
Hand full of bean sprouts (optional)
Small hand full cashew nuts (optional)
2 tsp Oyster sauce (optional)
400g Singapore shelf fresh noodles (or fried or steamed rice)
Method
In the plastic bag with the chicken strips, add the crushed garlic 2 pinches of salt and a dollop of the marinade and mix around. Put aside overnight or for 30mins.
Sauté the onion in a little oil until soft, add the capsicum and stir for another 2 mins then transfer to a bowl.
Sauté the chicken strips in a hot pan in 3 batches to avoid stewing (I cook the chicken to it is just under done if you want it to be tender and moist – the chicken will continue to cook when resting and when all the ingredients are added at the end)
Add the onion and capsicum back in to the chicken
Add the oyster sauce, Bok Choy, bean sprouts, cashews and the rest of the bottle of marinade,
Toss and stir for 3mins, salt to taste
Serve with noodles or rice
That is a quick and easy meal that the kids enjoy.  The Taylors Sweet Soy and Sesame marinade is available in store, grab it when you buy your Chicken.  The marinade also taste lovely with Beef!
ENJOY… what is your favourite Quick and Easy meal?