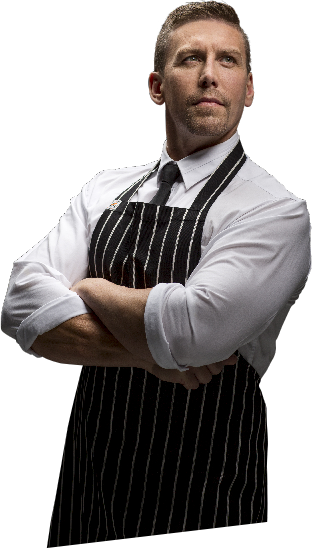 "EATING WELL IS A QUALITY OF LIFE" Colin Garrett.
At Colins we are an Artisan Butchery specialising in superior grade meat, personalised service and expert advice.
We butcher the traditional way!
Colin personally hand picks all our meat in whole carcass form ensuring absolute freshness, allowing us to age our meat to perfection and taste – a quality in butchery that has been lost due to pre-packed boxed meat.
We are a hive of activity! Behind the scenes we are busy making 120 FRESH products daily from handmade sausages to traditional wood smoked ham and bacon, handmade stuffing's, slicing, dicing, crumbing, marinating, boning and rolling, making your life easy!!!
We care about your specific needs, no two customer are alike. we cater for everyone! Our fully trained staff are your gateway at Colins to customising your personalised requirements – whether that be diet, allergies, cultural backgrounds, portions and packaging. We offer entertaining and cooking advice, as well as a delivery service so you can meet your meat at your door – we are here to help.
Colins is your go to butcher in Sydney.




East Village 
Shop 27, 2-4 Defries Ave
Zetland NSW 2017
Ph: 8199 1083
Trading Hours
Mon   8am - 7pm
TUE  8am - 7pm
WED 8am - 7pm
THU  8am - 7pm
FRI   8am - 7pm
SAT   8am - 6pm
SUN  8am - 6pm
P. 1300 COLINS (1300 265 467)
E. colin@colinsbutchery.com.au