Christmas BBQ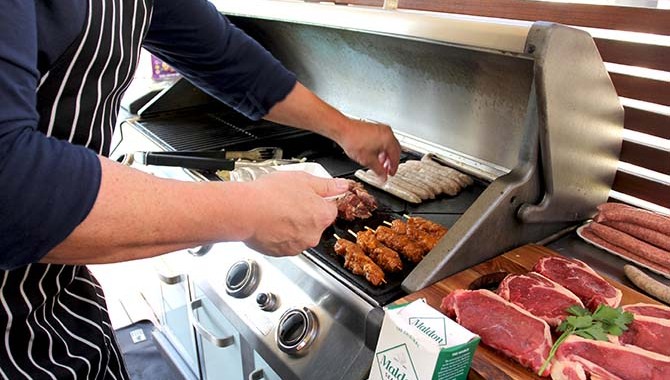 Celebrate with friends and family… Good Meat & Good Company equals Great BBQ!
Who are you celebrating your Christmas day with?  I have a mix of family and friends – family in the morning and friends into the night – and I love it!  We all work ourselves so hard throughout the year these are the times to enjoy! Kickback and relax with good meat, a beverage and a laugh…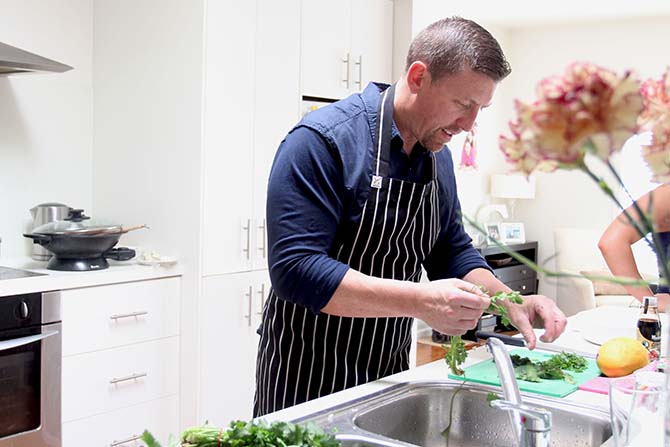 Preparation is the key to an enjoyable day for both you and your guests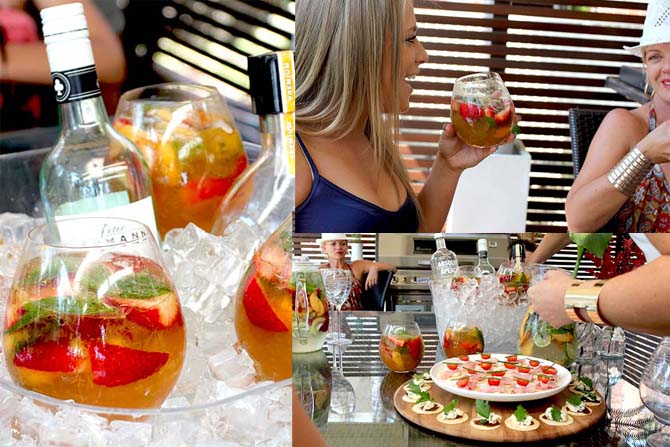 There are 2 canapés 1: Spiced pear paste with Creamy blue vein cheese & 2: Colins Ham, Grape tomato and Mascarpone cracker a lovely light and fresh option.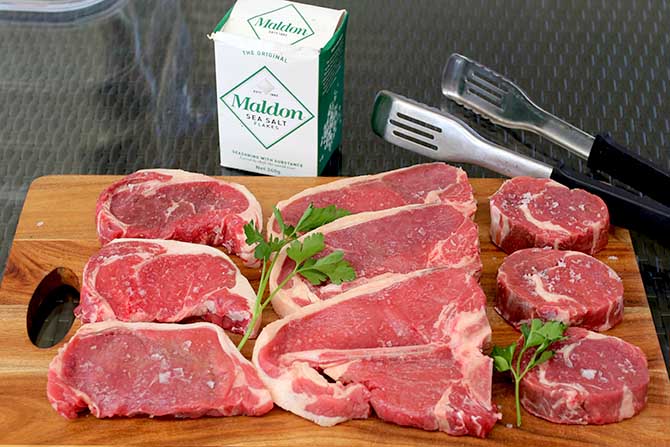 For tips on pre-preparing your steaks and how to cook the Perfect Steak  see how to
here
 - on our website under HOW TO/ COOKING TIPS.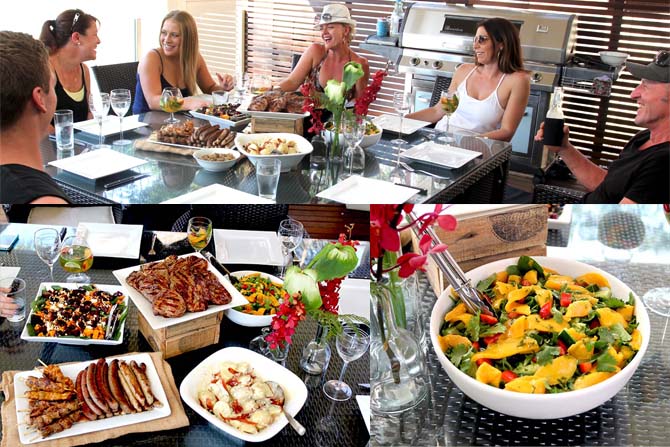 Healthy living… the salad of the day was the Mango, baby spinach and Capsicum salad!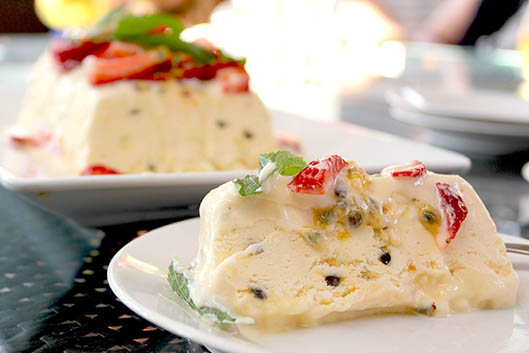 Everyones FAVOURITE – Passionfruit Semi-freddo with Mint & Strawberries :: recipe follows  
PASSIONFRUIT SEMI-FREDDO with MINT & STRAWBERRIES
1 cup of Passionfruit Pulp :: I used fresh pulp
½ cup Caster sugar
3 Eggs
2 egg yolks 
¾  cup Caster Sugar 
1 ¾ cup Thickened Cream :: I use Dairy Farmers
6 Mint Leaves half in half :: or if big cut into thirds
Punnet of Strawberries – cut in half
Tablespoon of Icing Sugar
In a saucepan place your pulp and the ½ cup caster sugar and pop on a medium heat.
Once simmering, let simmer for 4 minutes :: you will see that the sugar dissolves and the syrup will thicken.  Transfer into another bowl to let cool.
In a heatproof bowl, put in the eggs, egg yolks, and remaining caster sugar and pop over a saucepan of simmering water and continue to whisk the mixture for 4 minutes :: it will become heated through and it will become frothy.
Take off the saucepan and then mix with an electric mixer for 5 minutes :: it will become thicker and paler.
With a stainless steel spoon, gently fold through the cooled passionfruit syrup mixture into the egg mixture.  Stand to the side.
In another bowl, beat the cream until soft peaks form.  Then with a stainless steel spoon, fold through the egg and passionfruit mixture through the cream.
Pour the semi-freddo mixture into a metal tin of choice :: we used a loaf tin. 
Cover tightly with foil and freeze for 6-7 hours or until firm.
TO SERVE
Place the icing sugar in a sifter and shake over the top of the strawberrys, mix the icing sugar through.  Stand to the side
To take the semi-freddo out of the tin, run under warm water for a minute :: this will help to melt the edges away from the metal tin.  Turn upside down on a serving platter and the semi-freddo will come away onto the platter.
Place the strawberries on top of the semi-freddo and sprinkle over the top the Chopped Mint Leaves.
TIP :: run the cutting knife under warm water to slice the semi-freddo easily.
Serves: 5 – 6 people
This recipe is relatively easy but SO light and SO refreshing on a hot summers day!
Do you have any other flavour combinations???  
Stay tuned for more recipes – and the Strawberry and Mango Mojito to come – Woo Hoo
I hope Santa is good to you all.  I know i've been a really good boy.
ENJOY!